Empire is proud to introduce an ergonomic glove-ring design which promotes better operator performance with a built-in armrest.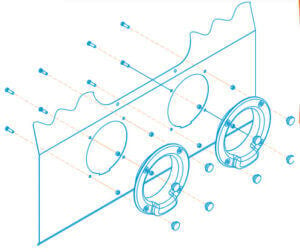 As shown in the drawing to the right, the ERGO Ring changeover is fast and simple with hand tightened knobs. Entire glove assemblies can be switched quickly outside the blasting environment for better operator hygiene. Upgrading is easy and our retrofit package includes all needed parts.
Remove old glove rings.
Place new rings in cutouts to mark drill points.
Drill 7/16" holes through marks.
Pass 3/8" bolts through cabinet wall from the inside and secure with 3/8" nuts.
Pass new rings over bolts and secure with knob fasteners.