Blasting large parts is an important aspect of many industries, but traditional blast rooms can be costly and complicated to set up. That's why Empire has developed a solution with everything you need for an efficient and safe blasting experience, and at a fraction of the cost. Introducing Empire's Pre-Engineered Blast Booths, available in five sizes with heights ranging from 10 to 12 feet. 
Bring The Work In-House with Pre-Engineered Blast Booths!
With pre-engineering, the PEBs can be shipped in 6-8 weeks, about half the time of a custom engineered system, assembled in two days with the help of a forklift, and their design allows for easy relocation.
Operator safety is ensured via safety interlocked doors and SuperBlast® ASME-approved pressure vessels. Moreover, Empire's exclusive Booth Ventilation System utilizes a 6-cartridge ductless design to remove dust and ensure a clean work environment.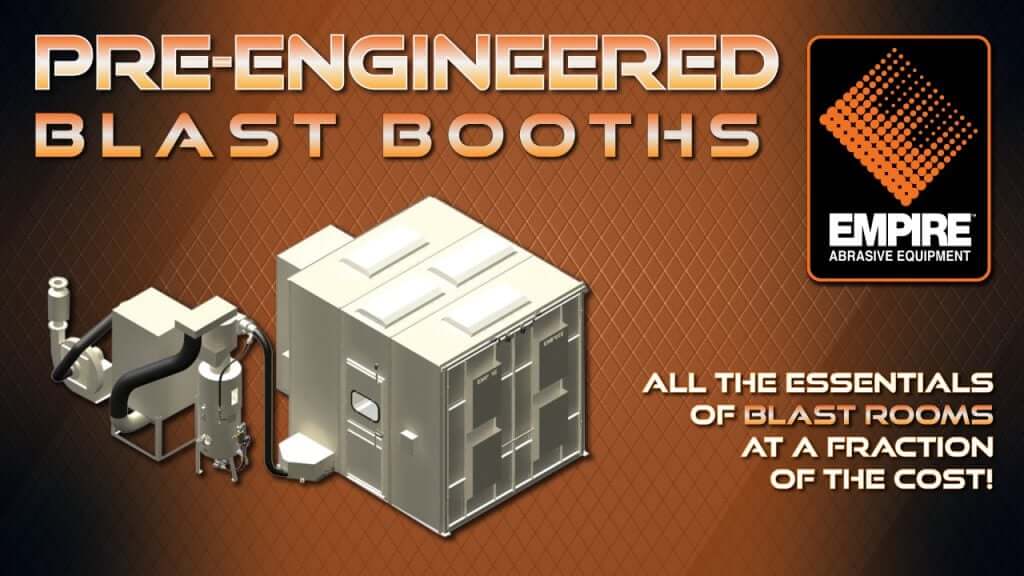 Additional features include:
Empire's highly efficient and reliable Pneumatic Recovery System that allows media to be reclaimed for continued blasting.
A sweep-in recovery chute allows for moving used media into a recovery hopper with an anti-clogging refuse screen.
A 10-hp blower recovers media at 42" of hydrostatic pressure, allowing for quick and efficient media recovery at rates exceeding 70 lbs. per minute.
The 800 CFM Dust Collector captures 99 percent of particles one micron or larger, which permits conveying air to be recirculated, reducing HVAC costs.
The Tunable Media Reclaimer, supported by the dust collector, improves results by controlling the size of media recycled to the blast process.
Double-swing doors.
Bright interior lighting.
Easily accessible electrical controls that includes a Variable Frequency Drive for precise motor speed controls.
Every PEB part, including the 14-gauge wall panels, are engineered to provide balanced performance and single-source responsibility.
So why settle for a complicated and costly blast room when you can have the convenience, affordability, and fast shipping of Empire's Pre-Engineered Blast Booths?
For more information, contact your local Empire distributor or Empire direct at 215-752-8800.
Watch Empire's PEB Overview Video!