Pro-Finish® systems offer perfect combinations of equipment performance and the versatility of modular designs. Backed By The Best Warranty In The Industry: Three Years Limited!
Standard Pro-Finish® Cabinets
With an off-the-shelf Pro-Finish cabinet, you get a tunable media reclaimer, a dust collection system, your choice of pressure or suction powered blast, and many other standard features. In addition, you can select from a wide range of in-stock factory options to meet your particular finishing requirements. If you need a powered or manual turntable, gun oscillation, additional blast guns, timer packages, special electrical, extended wear components or a vertical door, we can provide this equipment and other options without custom modifications.
Built-in system components:
Dust Collector
Tunable Reclaimers
One-cubic-foot Pressure Vessel
One-cubic-foot Suction Hopper
Empire cabinets are available in a variety of configurations suitable for your individual blast system needs:
Pro-Finish® Blast Cabinets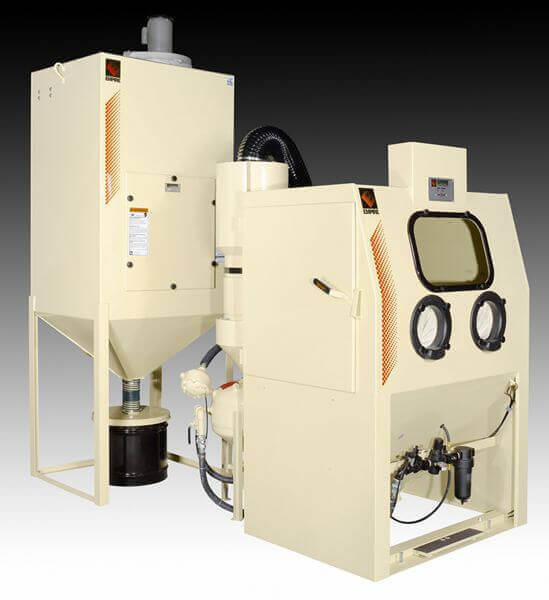 Pro-Finish® cabinets are the preferred choice in production applications. These rugged, easy-to-use cabinets are available in five standard sizes with your choice of a dust bag or dust collector and can be ordered as either suction systems or high-velocity pressure blast systems, which boost production rates in many jobs by 400 percent or more.
ProFormer™ Blast Cabinets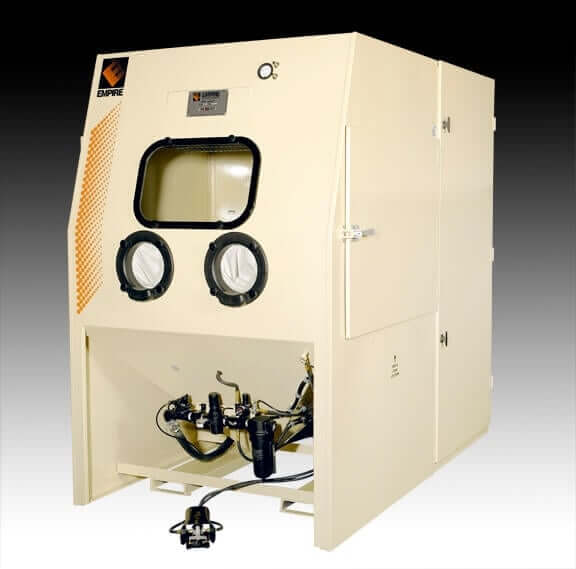 ProFormer™ cabinets put it all together in a single assembly that's easy to move and simple to hook up. These cabinets require only two connections, air and electrical, and include features offered in our high-production Pro-Finish® line. Plus, they now come in two sizes: the 3642 with interior working dimensions of 36 inches deep by 42 inches wide by 48 inches high and its bigger brother, the 4652, with working space of 46 inches by 52 inches by 48 inches.
Ergo-Blast Cabinets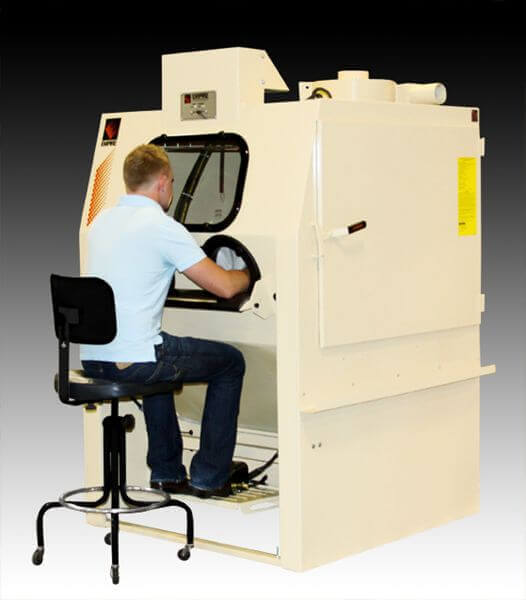 The Pro-Finish® Ergo System cabinets offer standard cabinet sizes from 2636 through 6060, with either a suction or pressure system. They get their name from extra ergonomic features such as: a recessed front panel for leg room; adjustable arm rests; and an adjustable and movable foot stand with foot treadle. The system also has a top entry blast hose with a single blast station.
FaStrip®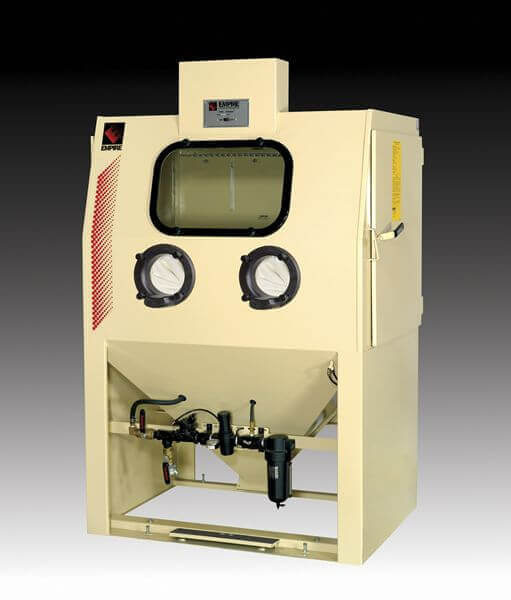 Pro-Finish® FaStrip® Cabinets are specifically designed for use with low-density media, such as plastics, that provide fast coverage without eroding substrates. Paint stripping for example, can be performed quickly and economically without the use of hazardous chemicals.
Econo-Finish® Blast Cabinets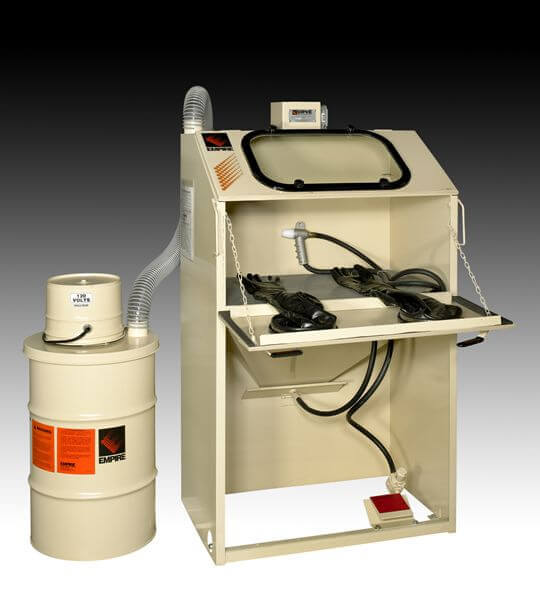 Designed for light-to-medium cleaning and surface-finishing jobs, these economical cabinets combine sturdy, 14-gauge steel construction with the features you need to perform a wide range of finishing tasks. All Econo-Finish® cabinets are equipped with a foot treadle blast control for ease of operation, an external media-regulation device, quick-change safety glass and an improved dust-collection system.
SafeStrip™ Blast Cabinets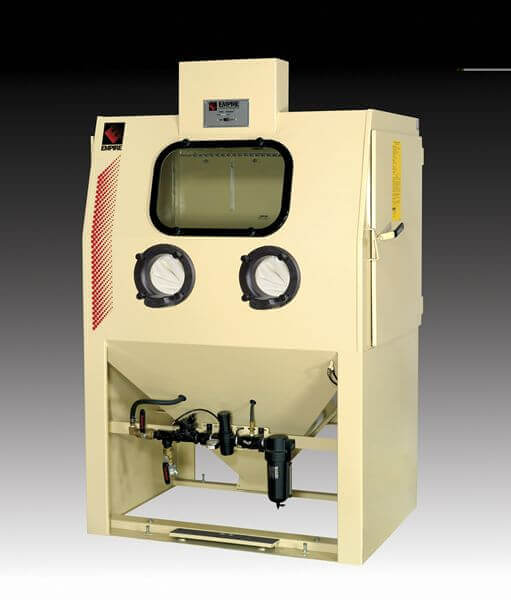 With a SafeStrip™ system, you can quickly and safely remove old coatings, dirt, oil, corrosion and other unwanted residues from soft metals, rubber, plastics and other sensitive surfaces. SafeStrip™ is ideal for work on tools, machine parts and molds, and in many other applications requiring a "light touch."
IL-885 In-line Conveyor Cabinets
IL-885 Conveyor Cabinets costs 60 to 70 percent less than an automated in-line blast system, but delivers comparable results when used on short-production runs. Designed specifically for economy and light production, this cabinet incorporates all the proven features of Empire's standard Pro-Finish® line.
Basket Blasters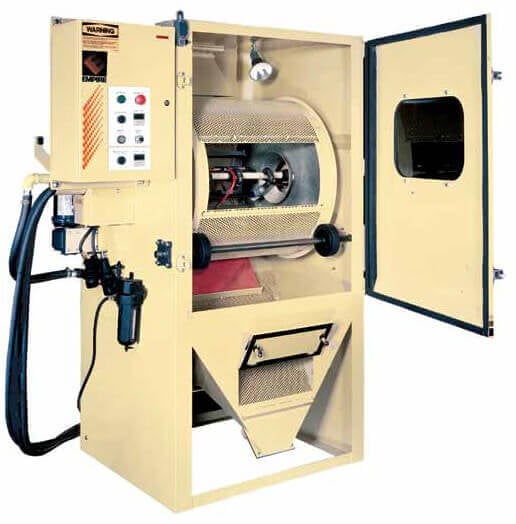 Pro-Finish® basket blasters automate cleaning, peening, and finishing of small work pieces. With certain types of parts, no other finishing method can compare to these heavy-duty production machines in terms of speed and quality results.
Continuous Belt Blasters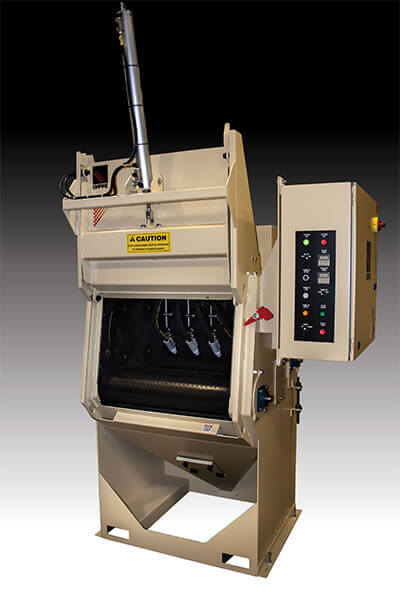 Continuous-Belt Air Blasters process multiple parts with the speed and economy of our Basket Blasters while expanding the envelope of tumble blasting from nuts and bolts to heavier work pieces.
Gallery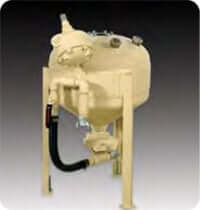 View Full Size
blast-cabinets4