Choose from a wide selection of automated systems.
Empire has designed and produced hundreds of automated systems, ranging in sophistication from standard automation to advanced robotic nozzle, part manipulation and part handling. Our customers report productivity gains between 100 and 700 percent.
Indexing Turntable Machines
This programmable, indexing turntable machine reduces per-unit cleaning costs on piston rebuilds by over 30 percent compared to previous methods.
By coordinating the movements of 16 blast guns, oscillating vertically and horizontally, with spinning work stations on a rotating platform, the system ensures thorough coverage and fast cleaning in a single pass.
Eight guns oscillating vertically clean the sides and skirts of the pistons. The guns sweeping horizontally clean tops and interiors.
Batch Processing Machines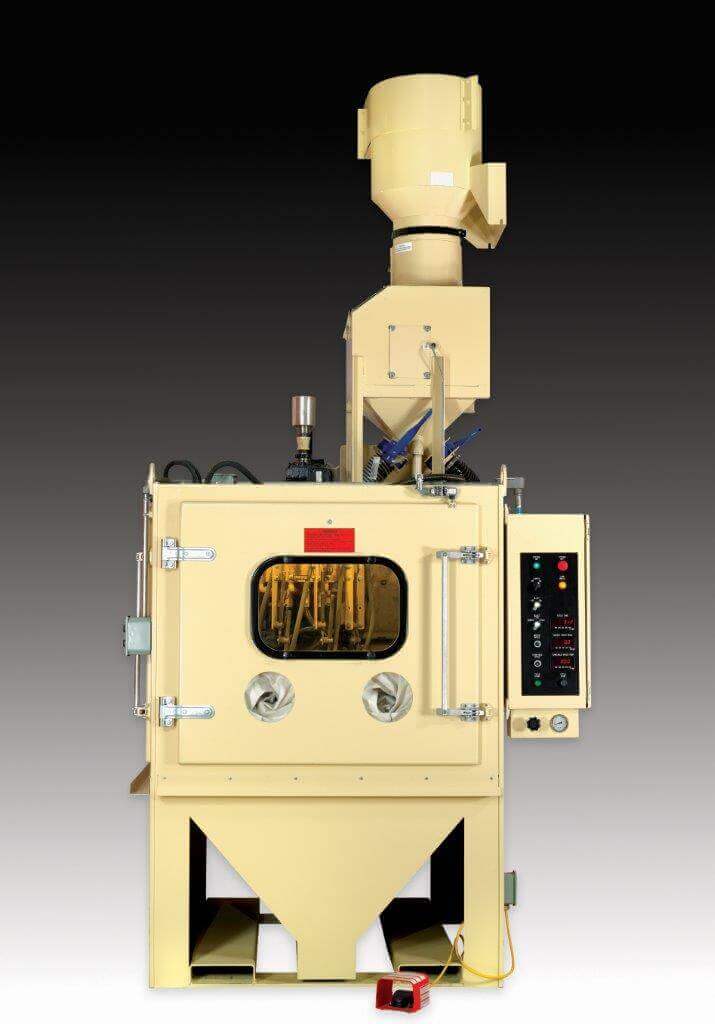 Our batch processing systems, which include both continuous and indexing turntable machines, are ideal for parts requiring long blast cycles. In the typical work scenario, the operator loads work pieces onto the turntable, sets the timer, starts the machine and returns when the cycle is completed. By adding a blowoff manifold and timer, which automatically remove residual material from the part and turntable, the operator is freed from the often dusty task of manual blow-off.
Continuous Processing Machines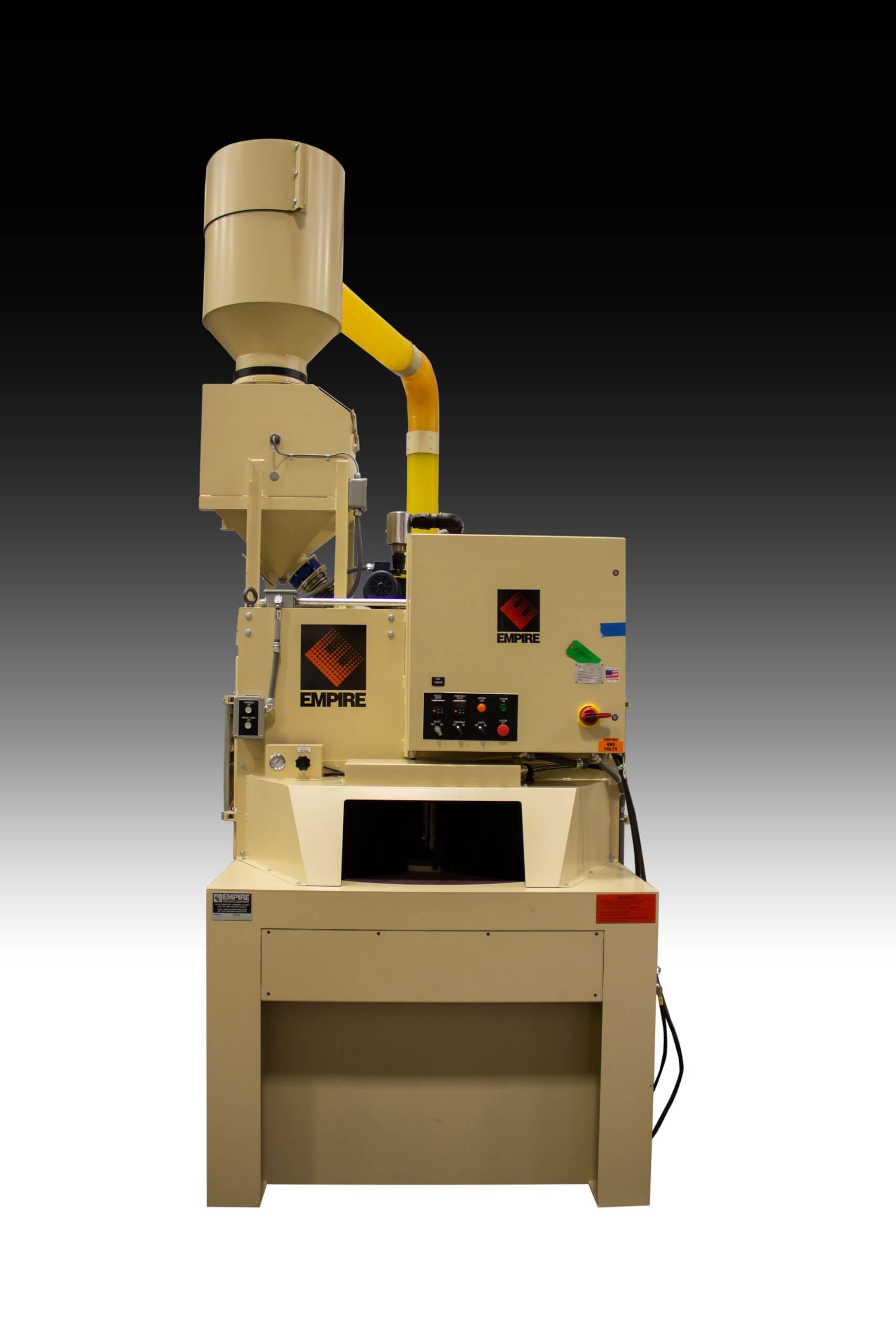 Turntable and in-line machines for continuous processing. These systems can be loaded and unloaded manually, equipped with robotic arms or designed as an integral part of the production line.
Our continuous turntable machines come in four standard models with table diameters ranging from 36 inches up to 108 inches. Larger units are available with two rotary blast heads. The heads can be oriented to perform separate functions, such as blasting the interior and exterior of parts at the same
time. Standard features include a rubber cabinet lining and a urethane coating on the turntable for extended service life.
Single Piece Flow Cell Machines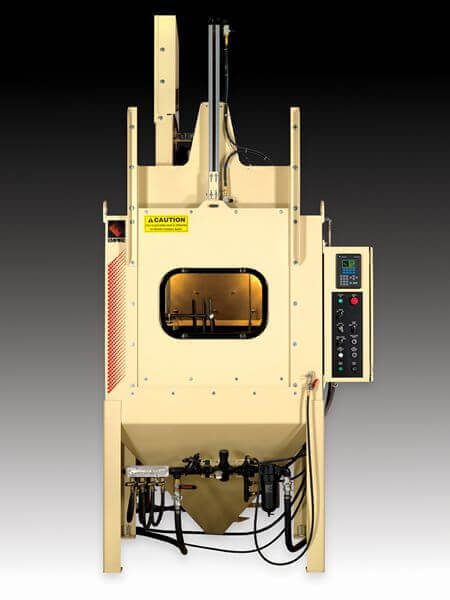 Single-station cell machines serve as just one example of how we meet the ever-changing demands of manufacturers worldwide. Our cell machines reduce inventory requirements and conserve floor space, giving many customers the winning edge in an increasingly competitive global marketplace.
Rotary Head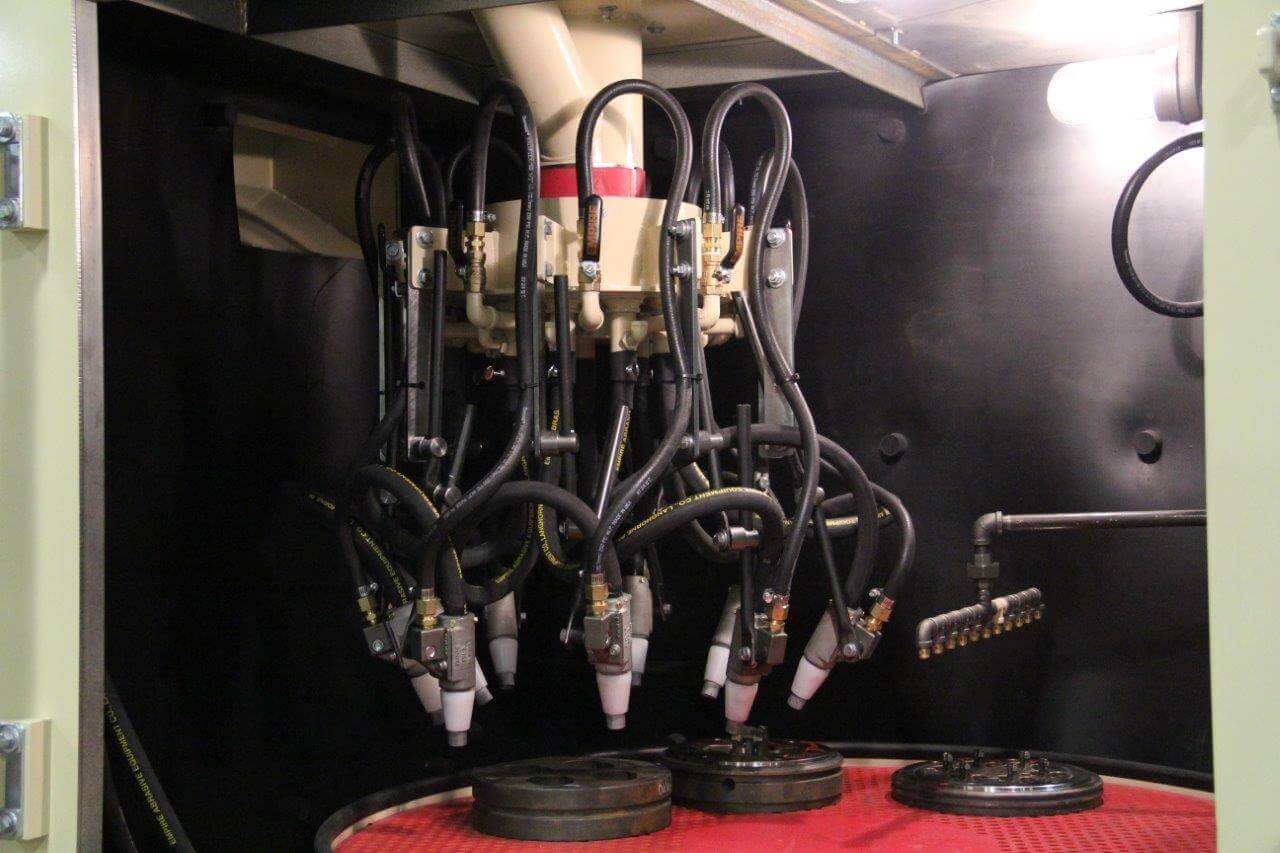 Rotary blast head delivers tremendous coverage while conserving compressed air. When the application calls for it, our rotary head will outperform any horizontal-nozzle oscillator, including our own, by reducing the number of blast guns and energy required for the job. Our rotary heads contribute to the outstanding performance of our in-line conveyor, continuous turntable and batch turntable machines.
Shot Peening Systems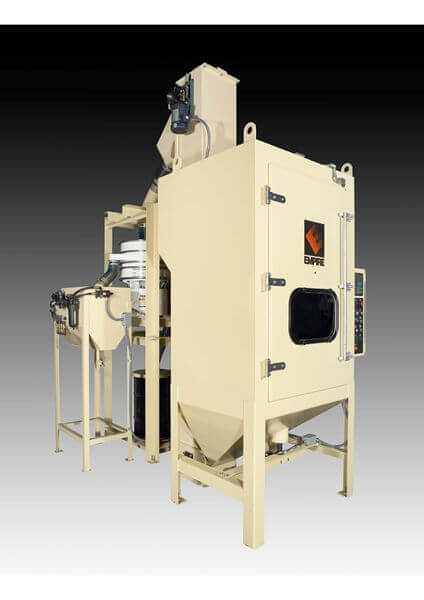 Air-blast peening systems with advanced computer-control, blast-coverage and
material-handling features that not only increase productivity, but also assure repeatability—a major concern in these quality-intensive applications affecting the structural integrity of critical components.
In-line Systems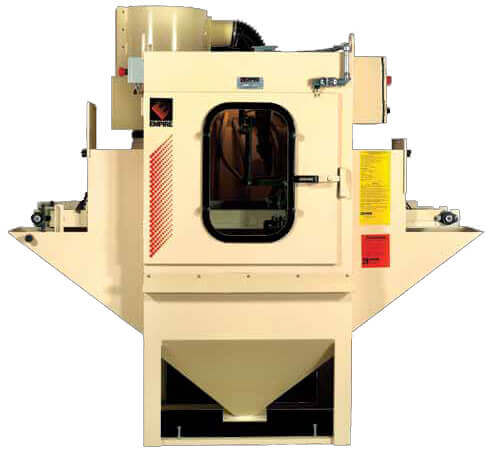 As with other Empire Abrasive automation systems, In-Line blast systems are available in a variety of configurations. Final design being influenced by part size, weight, shape and material handling requirements. These systems can be as simple as a flat belt, split belts, or a roller type while more sophisticated systems are built with horizontal or vertical pinch belts.
Custom Automated Systems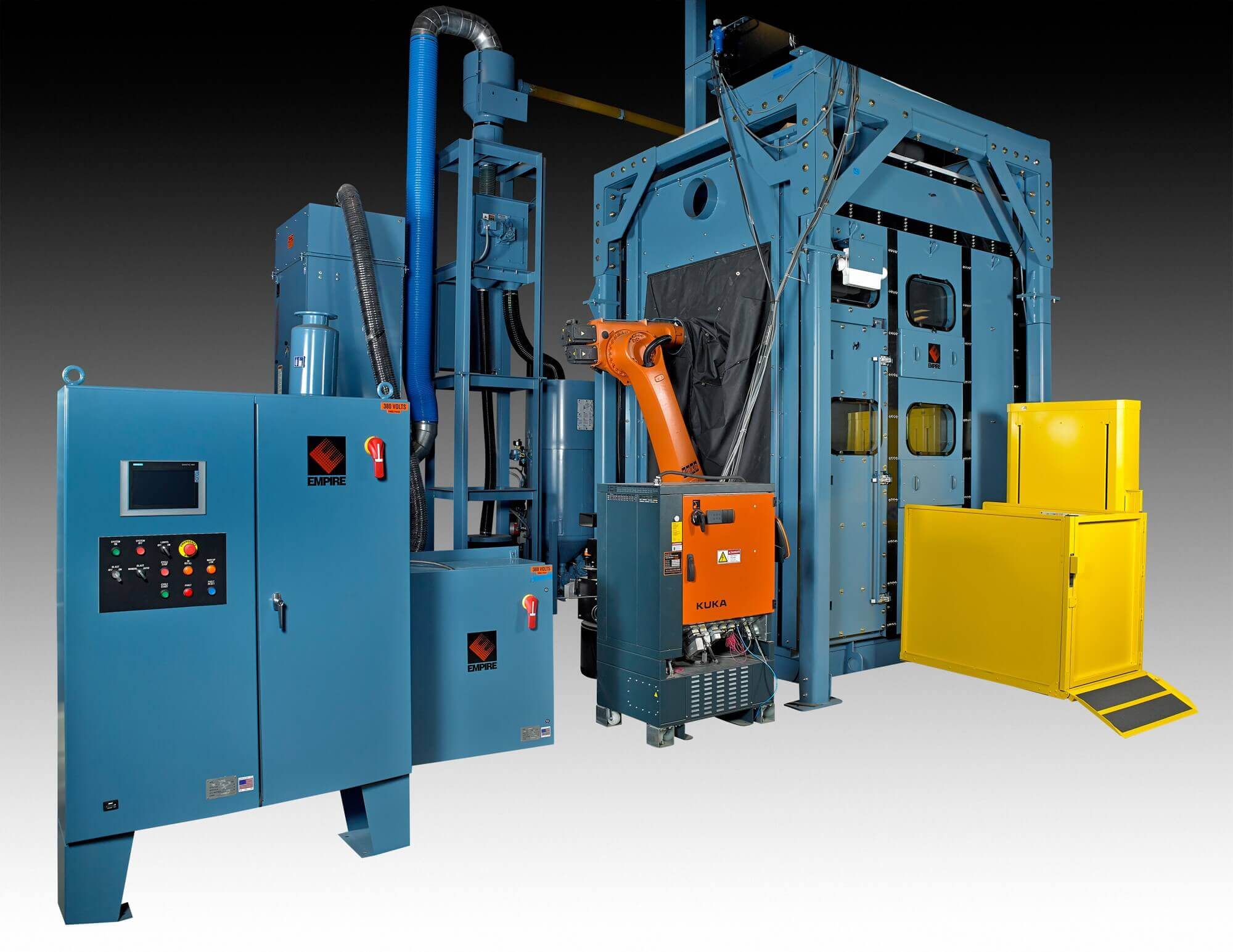 Empire Abrasive Custom Automated systems are available for your specific application. Final configuration/design being influenced by part size, weight, shape, production rates and material handling requirements. No matter what your application demands, Empire can custom engineer a system to fit your process and production requirements.
All systems can be controlled to the degree your process requires with:
Media Flow Controls
Air Pressure Controls
Media Recovery and Classification Systems
Process Validation and Reporting
Speed Controls
Gallery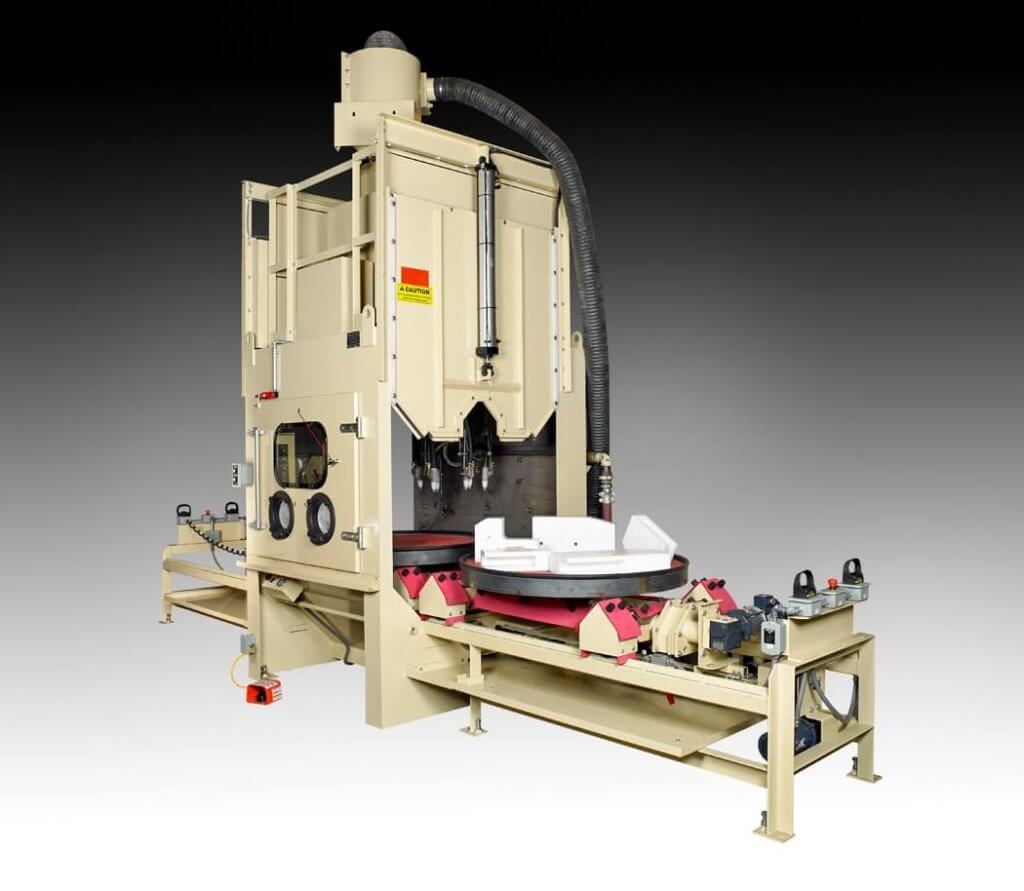 View Full Size
air-blast-dual-cart-6060RS