• PROCESS:  Etch rifle bolts for "black oxide" coating or final finish
• INDUSTRIES: Rifle and Firearm Manufacturing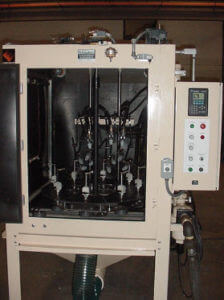 • EMPIRE EQUIPMENT:
Model BTT-36 Batch Turntable System
36" Indexing turntable with 12 part rotation stations
Twelve (12) fixed MH-3, 5/16" Suction Guns
Four (4) Cubic Foot media storage hopper.
Partial load process capability, less than 12 parts
PLC controls with Operator Interface Panel
RESULTS: For part processing in their new cell-manufacturing center, the customer selected our BTT-36, Multi-Gun Batch Blast Indexing Turntable to process up to 12 parts at a time. During the blasting cycle, the operator inspects and packages previously finished parts as another set is being processed. The batch process relieves the operator of the repetitious task of handling parts, provides QC time, and eliminates a separate inspection station.
To improve part finish quality, parts are blasted at two different stations with multiple fixed suction guns for improved coverage. With their old manual processing method, quality was not consistent nor was the finish uniform over the entire part surface.
PLC controls and operator's interface panel permit 1 to 12 part cycles. The operator selects the number of items to be processed and the system only blasts the requested number of parts. This saves air and reduces un-necessary component wear.
The system includes many wear and cleanliness related options, such as protective cabinet lining, lined reclaimer, covered turntable, window covers, and doorsills.