Empire's BB2 and BB4 Basket Blasters automate cleaning, peening and finishing of small work-pieces. With certain types of parts, no other finishing method can compare to these heavy-duty production machines in terms of speed and quality results.
Typical applications are for parts or items that may be rusty, or in need of cleaning, or where you need to achieve a required surface finish for coating. Other applications include:
•    Refinishing
•    Surface preparation for coatings.
•    For batch processing – nuts, bolts, fittings, fasteners
•    Parts have to be able to withstand part on part contact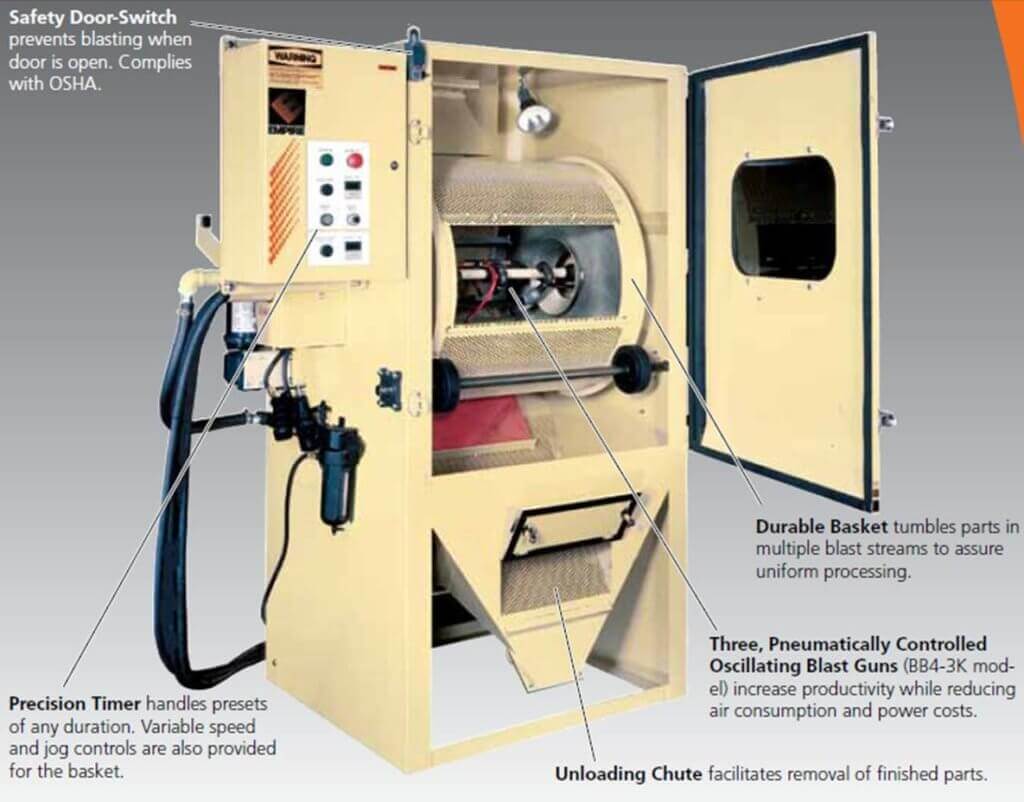 Ease of use:
Operation is simple: Load parts into the basket, set the precision timer, and the Basket Blaster does the rest. By tumbling parts within abrasive blast streams, these
machines deliver consistent finishes – automatically
Quality:
Both the BB2-3K and the BB4-3K provide complete part coverage, the BB2-3K has two fixed guns to cover a 16″ wide basket and the BB4-3K utilizes gun oscillation to cover a 30″ wide basket. The oscillation utilized in the BB4-3K constantly changes the blast parameters and uses less air. Because both systems are automated, operator error is removed from the process. Also both systems are supplied with variable speed control for the basket rotation allowing you to slow things down or speed them up depending upon your application.
Cycle time improvement:
The Empire Basket Blasters are production systems with two different size capacities; the BB4-3K with three oscillating guns and a 350-pound parts capacity and the smaller BB2-3K unit with two fixed nozzles and a capacity of 300 pounds.
Normal process time ranges from 15 to 20 minutes; however parts can be blasted for longer periods of time if needed. In the BB4-3K there are three oscillating guns that provide increase production rates while reducing power consumption and in the BB2-3K there are two fixed guns