This old Beatles' lyric serves as an apt description of a business destined for a brighter future. And continuing product improvement represents just one way Empire follows the tune. Recent examples of our product improvements start with the PF-6060-RS. This piece of equipment benefits from the following modifications: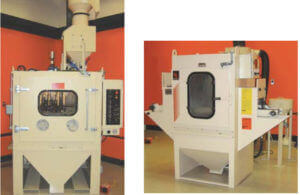 • New front-loading feature saves space and increases productivity in cell operations.
• Lower overall height (now under 14 feet) minimizes space requirements.
• More control on the rotary-blast-head targets blast zones with greater accuracy and boosts blast efficiency.
• Improved turntable profile facilitates loading and unloading of parts.
• Refined hopper design smooths media flow.
Improvements on our IL-885 add the following benefits:
• Enlarged blast interior improves access for tasks such as nozzle adjustments.
• Longer entrance/exit hoppers reduce media drop off at the end of the conveyors.
• Movable slide gates enable adjustment of opening sizes on the "in" and "out" sides of the machine.
• Lower cone shape improves media pick up. Our automated Cell Machine got better too.
• An internally mounted sliding door presents a cleaner exterior profile.
• An expanded work area within the enclosure improves access and processes larger parts.
• Finer incremental adjustment on stroke length enables more precise control.